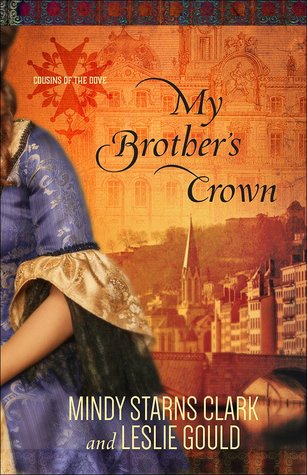 Split between 17th century France and modern day Virginia, My Brother's Crown tells the story of two women who must rely on faith to get them through. Catherine, a protestant in Catholic France, must find a way to trust her brother who only seems to have secrets. And Renée, a Virginian scientist who has recently become inspired by her ancestor Catherine, discovers her inner strength to face a dark and sinister past.
I'm usually quite particular about historical fiction, and rightly so. I want to know that the author(s) have done their work so that I don't have to question their writing. Everything written within this novel was beautiful, and compelling. But then it got to some French words and phrases, and for some reason I kept wondering if this was 17th century French. Being Canadian, I have an understanding of French, and I wasn't expecting to understand it, but I did. I know around this time is when modern French began to be developed, but it's still pretty close to Middle French so I just had to wonder. It was this wondering that sometimes pulled me out of the novel. This has nothing to do with the writing, but with me. I wish I had been able to trust the authors and their research with the language. I'm glad the language was included, as it helped to create the French setting in my mind. I just couldn't get out of my own head.
While the Persecution Pamphlet was fake, I absolutely loved the world in which it was created. Based on a true persecution of protestants, this novel shows just how dire times were. To be honest, it resonates with me even in today's world. Catherine's fear for her life, her brother's, trying to save her cousin yet refusing to convert was so moving and challenging. We all want to believe we have the faith to say no in the face of our enemy, but we won't know until that moment. I knew little of what was happening in France during this time period, so I'm grateful to have learned something.
Renée's portion of the novel was moving. While I felt the romance was rushed a bit, I loved her passion for her work and for her family's history. I'm a huge genealogy nut, tracing my own ancestor's back to the 16th century, and I connected to this part of her life. Feeling a connection with a long-gone ancestor is pretty touching. I'm looking forward to what I hope will be more novels to read more about Renée's mystery, but I'm glad at least the first portion was closed and dealt with.
I very highly recommend this novel to anyone with an interest in French history, their own faith, God's provision, and how the past is ultimately connected with our present and future. This is a novel to follow, and re-read.
I received a free copy of this novel from the publisher in exchange for an honest review.