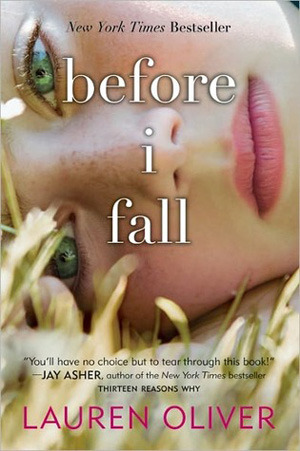 I have to preclude this review by saying that I love novels that go against the grain, that don't necessarily give people what they want but what they need. With that said, Before I Fall does all of that and more.
This is the story of Sam Kingston. And she's dead. Not like in The Lovely Bones kind of way, but similar. Sam has the chance to relive the last day of her life multiple times, but she has no idea why. Oliver brings us through Sam's journey to finally moving on in such a beautiful way. Yes, first we all hate popular mean girl Sam. She's a brat, and has completely wrong priorities. But don't we all at that age? This book is written so well that I feel what Sam is feeling. On day 3 of her last day, she talks about having hope, hope that if she does this and that she can stop from dying and everything will turn out in the end. I as the reader know she dies. She is already dead. But I can't help feeling that hope that she feels. Maybe I'm wrong! Maybe she can change what happens!
Then she wakes up again on day 4. Now we (me and Sam) want to know what will help her move on. Is it experiencing everything she wanted before she goes, like unfinished business? Is it doing whatever the heck you want, because it won't matter the next day anyway?
Finishing this novel was almost a privilege. I'm sure many people didn't like how it ends, with her moving on. This isn't the movie Groundhog Day. That isn't how life works. In real life, people do end up dying. They don't always get the chance to know the reason for their death, but Sam does and I think that's beautiful.